Welcome to Once Upon A Child Ajax, ON
| | |
| --- | --- |
| Celebrate Earth Day, April 22nd, with us! | |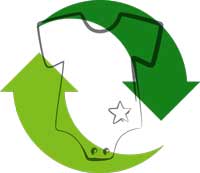 Over 25 Years of Know-How
For over 25 years, Once Upon A Child has been the expert in recycling kids stuff. In 2013, our stores sold over 40 million pieces of children's clothing, toys and equipment back into our communities. When you buy your used kids items from us, know that you're:

1. Extending the life of clothing, toys and equipment (some of which may never have been used or worn).
2. Keeping these items from filling up landfills.
3. Saving on raw materials need to make and package new items.
4. An owner of value-priced, high quality kids stuff.

Visit us for friendly service, expert advice on safe kids items and check out our inventory at up to 70% off mall prices. Sell us your kids stuff for cash on the spot!
For more information about Earth Day, as well as some great ideas for kids, visit www.earthday.ca
Our most wanted items: outdoor toys, bikes, strollers, exersaucers, high chairs, gates and more!
Now buying
Spring & Summer clothing
including t-shirts, shorts, summer dresses, sandals, swimwear and more...
Don't forget we pay CA$H on the spot for all items we can accept.
_______________________________________________________________
The Knot Genie™ Detangling Brush was created for every mom that has endured the foot stomping and screaming matches that come with brushing their child's hair. With the Knot Genie, even the curliest, most knotted up hair practically slips through the unique bristle configuration - gently and painlessly. Try the Knot Genie on your kids (or on yourself) - you'll be amazed by the ease of brushing, as well as how it virtually stops breakage and split ends.
Only $14.99
----------------------------------------------------